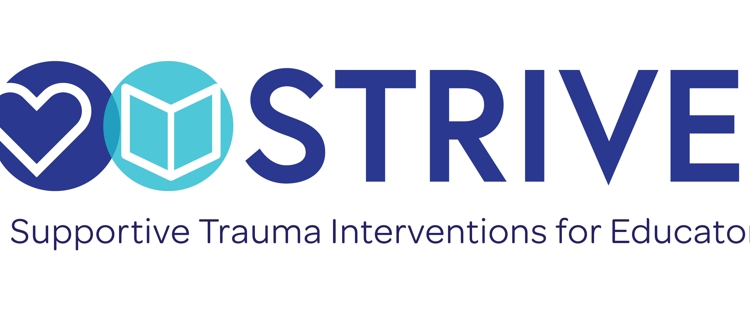 Building resources for teachers that support the needs and help facilitate the healing process of young children who have experienced trauma.
Disparities in exposure to adverse childhood experiences contribute to academic inequities, commonly referred to as the achievement gap.
Project STRIVE (Supportive Trauma Interventions for Educators) aims to help schools and early education systems of care increase their capacity to identify, respond to, and optimally support the unique needs of young children who have been impacted by trauma exposure. The model is designed to be sustainable by developing leadership and expertise within schools.
Project STRIVE was developed through a collaborative partnership between Boston Medical Center Child-Witness to Violence Project, Boston Public Schools, and Vital Village Network. STRIVE aims to improve student success by improving the quality of teacher-student interactions using an evidence-based, trauma-informed model. STRIVE was designed in response to the ideas, requests, and concerns raised by educators, parents and administrators in several Boston Public Schools.
Project STRIVE works on several levels to build resiliency of students by supporting educators and caregivers, improving classroom environments, and developing trauma-sensitive school systems connected to community-based resources. First, building the capacity of teachers to support students by enhancing their understanding of trauma, and its impact on learning and behavior and use this knowledge to optimize classroom environments. Next, promoting trauma-understanding and socio-emotional awareness of caregivers and parents through parent workshops and a backpack toolkit for the home. Finally, mobilizing community-based resources and health services to create comprehensive network of services for children and families connected to the school system and fostering local leadership trajectories to sustain trauma-sensitive approaches beyond the tenure of the intervention.
Our Goals
Project STRIVE uses a multidisciplinary, cross-sector network to build the capacity of supportive adults (parents, caregivers, and educators) to address the needs of children exposed to trauma. Toward that end the three goals are: (1) to improve socio-emotional regulation for elementary school students and improve student-teacher interactions; (2) to improve protective factors for families and strengthen parental resilience; and (3) to promote trauma-sensitive school environments by leveraging existing data and coordinating partnerships to build institutional capacity of public schools that serve minority and disadvantaged youth. A primary goal has been to engage educators in designing and improving a trauma-informed, supportive school atmosphere. A secondary goal has been to have ongoing active community participation in leading trauma-informed systems change in schools.
Our Impact
We have trained over 200 BPS educators, over 20 BPS Schools, reaching an estimated 2,000 students
Read about the STRIVE Framework for Trauma Sensitive Schools and preliminary results HERE
Our Collaborators
Child Witness to Violence Project
Boston Public Schools (BPS)
BPS Safe and Supportive Schools
Children's Services of Roxbury Preschool
Project Leads
Neena McConnico, PhD, LMHC
Courtney Bailey, LICSW