May Network Connection Meeting
Date/Time: May. 13, 2019, 5:30 - 8:00 pm
Location: Vine Street Community Center
Register here: http://bit.ly/VitalVillageRSVP
5:30-6:00: Network Meet-up & Dinner
The Network Meet-up is an informal gathering led by the Village Strategists of Boston that offers dedicated time to build relationships, network, and connect with new & veteran members. We aim to increase opportunities to build trust & relationships across the diverse field of child, family & community advocates.
6:00-8:00pm: Meeting Programming
Join Vital Village, Child Witness to Violence Project, SPARK Center, Care Dimensions, and community partners as we work together to raise awareness, build understanding, and uplift community strategies to support mental health for every child and family. Our family-friendly evening includes activities covering mental health de-stigmatization, trauma-sensitive & creative coping strategies, and sharing community resources. Attendees also have the opportunity to enter a raffle for a Train From Within holistic health and mindset coaching session with network member, Kiyoshi Hiyashi.
State Representative Liz Miranda is making a special appearance. Rep. Miranda represents Dorchester & Roxbury and is a mental health champion in the State House.
Kids Connection: The SPARK Center and Mindfulness with Gabriel are facilitating children's mental health and wellness activities! Childcare spots are limited. Please indicate on RSVP.
Bring your family and invite a neighbor with our flyer or via Facebook!
Missed the meeting? Click here for a Summary Snapshot of the event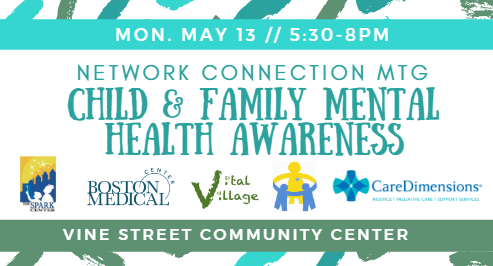 Dinner will be provided. MBTA accessible. Street & lot parking on Vine St.