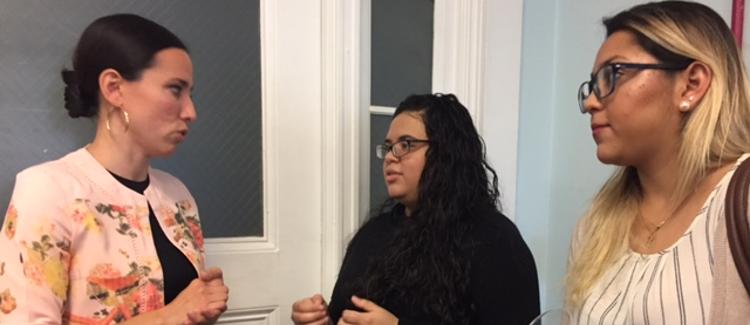 The Certificate in Community Advocacy and Leadership is a three-part certificate at Urban College of Boston for those looking to further develop leadership and advocacy skills to set them up for positions in the community where they can continue to be community organizers, mobilize as advocates for families and children, and build relationships with community-based organizations to amplify the progress for children's health and wellbeing across Boston neighborhoods.
2023-2024 Program and Scholarship Information
Vital Village Networks is accepting applications for scholarships to the Certificate in Community Advocacy and Leadership, a year-long, 9-credit, college-level certificate program conducted in partnership with Urban College of Boston that builds upon the capabilities of community leaders who are working to maximize child, family, and community wellbeing in Boston.
This certificate is for those who work in community organizing, policy change, or advocacy for children and families to prepare them to address the aspects of professional development in this field. Students will acquire tools and develop skills to serve as better advocates for children and families.
Classes meet on Wednesday evenings from 6-9pm September 6, 2023 through December 13, 2023 and January 24, 2024 - May 15, 2024. From January through May, students will also have a 3-credit, 90-hour externship project. Please note the Fall 2023 Semester is scheduled to be remote. The Course Director is Conrad Robinson.
Courses:
HUS 203 Foundations in Community Advocacy (3 credits)
HUS 206 Community Advocacy: From Knowledge to Action (3 credits)
Externship: Advocacy and Leadership: From Action to Community Practice (3 credits)
Scholarship Details:
Scholarship recipients will have limited out-of-pocket expenses (no more than $75 - including the cost of a textbook and cap & gown for graduation). However, we ask that all Scholarship recipients apply for the Free Application for Federal Student Aid (FASFA) as standard for all higher education institutions. We will offer support in this process. For those who qualify for a Pell Grant or the Urban College Institutional Aid, this will count toward your scholarship from Vital Village. For those who do not qualify, Vital Village will cover the costs of tuition and fees for the 9 credits of the Certificate.
Scholarship recipients will be expected to participate fully in the two-semester course & 90 hour externship. In addition to course work and completion of the externship, recipients are expected to attend the VIRTUAL annual National Community Leadership Summit on October 17th, 2023, present at Innovations and Inspirations Night at the June 10, 2024 Network Connection Meeting, and provide a creative summary (blog post, TED-style talk, or other medium) of their experience.
APPLY HERE BY Wednesday, 8/23/2023!
History - Curriculum design and delivery
What began as a co-created workshop in 2015 with residents and community partners called Parent Advocacy Action Roundtable, developed into a 9-credit Certificate in Community Advocacy and Leadership at Urban College of Boston in 2017. See more about the process of development and the research done to establish this innovation here.
The course and internship component is embedded in the Vital Village Network, with 40% of class lectures being delivered by Vital Village Network partners who share their experience as advocates for children and families, numerous partner organizations acting as sounding boards for Certificate Fellows who research a social issue, and 10 organizations co-designing internships for Fellows to meaningfully contribute to an ongoing advocacy project in the community.
Fellow success
Betweeen May 2018 and 2021 over 36 Fellows have graduated with a Certificate in Community Advocacy and Leadership.
One Fellow said, "I feel like I gain(ed) so much from this class. I came to gain a broader outlook on advocacy and I needed this class to do that." And another about what was helpful about the class for their home-life: "I will share what I have learned with my child – having her understand that speaking out makes a difference." Another Fellow said of the course impact: "I will hear my fellow neighbor's problems and will try to find a solution to them." While one of the first Fellows, Maren Tober, was recognized in the press for her advocacy efforts to "Lift the Cap on Kids," an outdated welfare cap for having additional children while receiving benefits. This legislation is being re-filed in the 2019-2020 legislative cycle.
Vital Village Network members hosted community outreach and advocacy internship experiences. For example, Fellows supported advocacy efforts at Hawthorne Youth and Community Center, Immigrant Family Services Institute, and Project HOPE.
Leadership impact
Because advocacy so often involves elected officials and other decision makers, Fellows visit the Massachusetts State House to educate their legislators about issues that they deeply care about and have guest lectures from City and State Representatives. Fellows further hone their skills in the second-level course which will bring them out into the community by designing their own advocacy project. Vital Village Network aims to deepen the relationship with Urban College of Boston students and Network partners through the internship and through other leadership development opportunities with partners. The impact of receiving course credit to contribute to one's community sends a powerful message that service leadership and being an active and engaged neighbor has value.