Benjamin Buggs - Vital Village National Partnership and Collaborative Leadership
In December of 2022, Benjamin Buggs was awarded the Vital Village National Partnership and Collaborative Leadership for his work fighting food insecurity in Vallejo, California.
Benjamin Buggs grew up in Muncie, Indiana. He was recruited to play basketball for the University of Pacific in Northern California, and eventually earned his Bachelors with a concentration in marketing. He played basketball professionally for many teams, including the Sacramento Kings, and continued his education to get his MBA and his JD in law school. Benjamin currently resides in Vallejo, California married to his wife Mary Ann Buggs, and is father to five children and 23 grandchildren.
For background, Vallejo used to be home to a large naval base before it closed, leaving tens of thousands of people unemployed, devastating the entire town. This led to a lasting impact on the residents of Vallejo, and combined with the fact that much of the town is in a food desert- an area with limited access to affordable and nutritious food- Benjamin saw food insecurity everywhere. Benjamin decided to start Faith Food Fridays with his wife and with the support of his local church to help the people of Vallejo access free and nutritious food. He said when people have to make the choice between rent and dinner, many people go hungry. Faith Food Fridays helps alleviate that budget stress.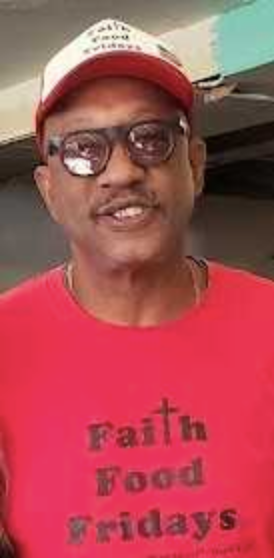 Faith Food Fridays is a small food bank and a large food pantry. With a team of 10-20 volunteers working daily, they are able to serve over 1,100 households each week, nearly 4,000 individuals, every Tuesday, Friday, and Saturday. Participants are able to access fruit in-season, dry goods, meat, dairy, frozen foods, and cleaning supplies. Faith Food Fridays partners with the local FoodBank of Contra Costa and Solano and Feeding America which helps them receive food donations daily from major nearby grocers including Costco, Safeway, Walmart, Target, Whole Foods, and more. This allows them to gather food that would have otherwise been wasted and distribute it to those in need. Benjamin was proud to tell me that Faith Food Fridays does not require qualifications for people to get free food, so anyone that shows up is able to receive food and supplies.
At Faith Food Fridays, Benjamin works with local and national partners to support as many people as they can. Children receiving free meals from their school are likely to face food insecurity over the weekends. To fill this gap, Faith Food Fridays began a No Child Goes Hungry program to provide these students and their families with food to access over the weekend, mitigating this issue of recurring weekly food insecurity. Faith Food Fridays also partners with National Voter Registration Day to help with voter registration. They collaborate with a local medical college and hospital to provide people with free vaccinations, testing, and health screenings. They also educate people about the meaning of different food expiration labels to minimize food waste from label misunderstanding. A local church provides mobile showers for people in attendance as well.
This all started twelve years ago when Benjamin asked to lease an abandoned property owned by his church. He and volunteers spent years fixing up the property and recently, expanding it to host a community garden to educate parents and kids about growing sustainably. He saw the level of poverty and hunger in the community and realized that he needed to make a change. Eight years ago, Benjamin left his corporate job and has worked full time as a volunteer ever since. He says his work is more impactful than ever since the cost of groceries has nearly tripled in Vallejo in recent years, along with the general higher cost of living across the entire country.
Benjamin is inspired to continue with this work because of the thousands of people that need help accessing food. He dreams about what to put in the food boxes and never gets tired of the work and how impactful it is in so many peoples' lives. In addition to this, Benjamin is also inspired by his great team of motivated volunteers who contribute their time and energy to the cause of fighting hunger. They have volunteers from local schools, the court system, church volunteers, and others that even volunteer full time to support this organization. He explained that these dedicated individuals are what make the food pantry functional, an act that Benjamin repeatedly described as "inspirational."
Fortunately, Benjamin and Faith Food Fridays are now getting recognition for their work and impact such as being labeled a Children's Champion, and receiving the state award as Volunteer of the Year. They are starting to get funding as well, including the City of Vallejo, and Solano County.
When asked about advice he would provide to individuals interested in community leadership, he said his leadership rule is to never ask anybody to do anything that he wouldn't do himself. He said "to be the leader of all, you need to be the servant to all." Even as the founding director, Benjamin still does the heavy lifting, literally, consistently working with his team of volunteers to make increased food access a reality. Additionally, by partnering with national organizations, Faith Food Fridays has been able to access additional support, information, resources, connections, and funding. He said it is smart to stay interconnected with other organizations, no matter the distance.

If you are interested in contacting Benjamin Buggs or donating your time/money to Faith Food Fridays, you can check out their website faithfoodfridays.com - social media accounts are linked there. Additionally, you can email maryann@faithfoodfridays.com or info@faithfoodfridays.com.