Welcome to In the Arena with NOW
Change can begin with anyone, but it is especially powerful when it is designed and led by the people who will be most affected by it. The In the Arena with NOW podcast seeks to celebrate and share the stories of these leaders.
The Networks of Opportunity for Child Wellbeing (NOW), an initiative of the Vital Village Network at Boston Medical Center, is designed to create space and conditions for local coalitions to build their capacity to drive transformation in their communities - specifically for children and families. We convene subject matter experts, gather tools and resources, and create space for peer learning as strategies to help communities strengthen their capacity in the following areas:
Engage a broad and diverse group of stakeholders within their communities

Strengthen their ability to approach an innovation through an equitable trauma-informed lens

Leverage data to tell the story of their work and impact, using both qualitative and quantitative methods

Build and strengthen relationships with local policy stakeholders and develop a communication plan to deepen engagement
Why "In the Arena" - what do we mean by that? The premise for this podcast stems from Teddy Roosevelt's quote "The Man in the Arena;" we intend to highlight how communities are collectively stepping into the ring of transformation to create the spaces they want to live and thrive in, while providing a platform for local leaders to own the narrative of their work.
During this season listeners will hear stories and reflections from each of the 10 coalitions in the NOW Learning Community about their daily quests to redefine what health equity and child wellbeing looks like in their communities. We'll explore the strategies they're implementing, their celebrate successes and understand the impact their work is having their communities, while also unpacking the challenges they're being faced with.
We believe the most lasting change includes a variety of partners, so In the Arena with NOW will also feature our allies and partners in the health equity and child wellbeing space. We'll explore tools and resources from organizations like Brazelton Touchpoints Center, National League of Cities, Children's HealthWatch, Reaching Our Sisters Everywhere (ROSE), and a host of others.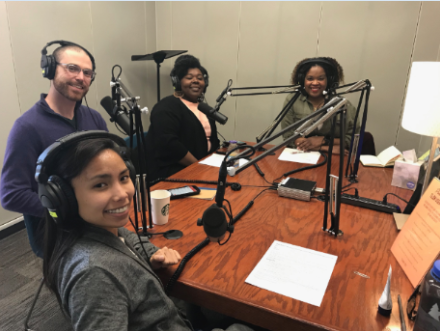 Our first episode begins with our roots in Boston, MA and the Social Justice Mediation Program (SJMP) - a peer-to-peer advocacy group within the Vital Village Network. I had the opportunity to sit down with SJMP co-chairs LaToya Gayle and Myles Green, as well as Desi Hartman and Erica Pike - Vital Village Network staff who support SJMP and a variety of community-led workgroups across the coalition. You'll hear their individual paths to the Vital Village Network, learn about "social justice mediation", and understand their collective approach to transform their community from the inside out.
I hope you'll listen in as we journey across the country, and perhaps around the world, to hear the stories of how local leaders are jumping into the area using their collective resources to create the happy and healthy communities they want to live in.
Listen to Episode 1: Centering Stories through Community Mediation