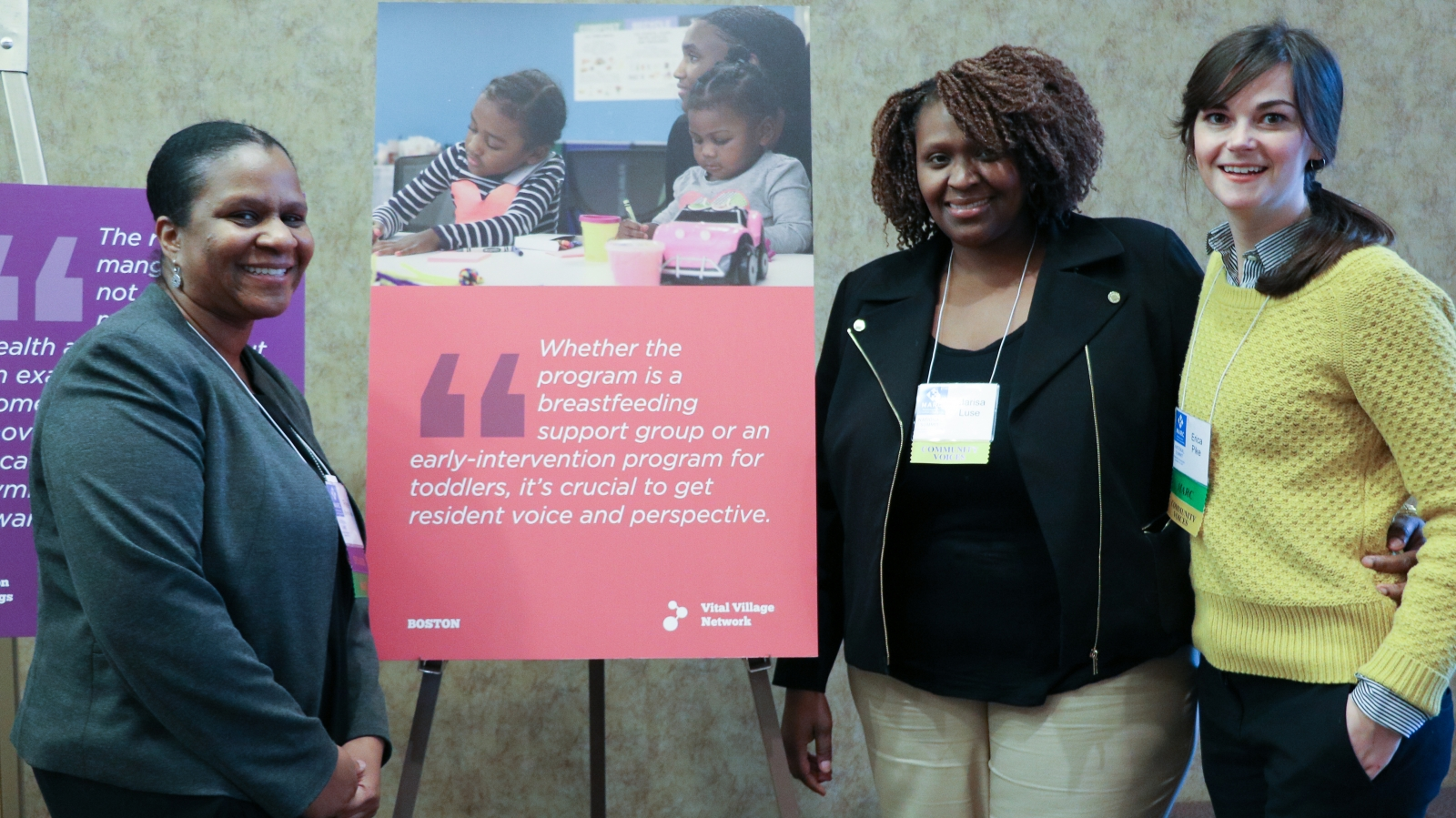 Marisa Luse was accustomed to juggling multiple roles: as the mother of a three-year-old son, a parent ambassador for the Boston Children's Museum and a board member for the Boston Association for Childbirth Education. She was used to helping youth and families access and achieve their goals: a healthy family, a school-ready child.
But when leaders of a Community Organizing for Family Issues (COFI) training asked Luse to name priorities for her own growth, she came up blank.
"It was hard for me to focus on myself," she recalls. The three-day training, held in Chicago in October 2016, helped her realize "you're not practicing self-care as you're doing this work; you're not setting boundaries, because you're so passionate about what you're doing. You're forgetting your own needs, your own personal and professional growth. I thought that was very powerful."
Luse has spent the majority of her career working on social justice issues. But new parenthood revealed a cache of challenges in her own backyard. As the mom of a 9-month-old, seeking breastfeeding support, the company of other parents and quality early education programming close to her Roxbury home, Luse was thrilled to find a playgroup hosted by Countdown to Kindergarten, a program of Boston Public Schools (BPS), just around the corner. But she was dismayed when BPS eventually closed the group because attendance was so low.
"I knew there were families in the community who had babies, but they weren't participating. That became an interesting question for me: Why aren't parents in the community accessing this amazing and free resource?"
When the playgroup's coordinator linked Luse first with the Boston Children's Museum, then with the Vital Village Network, she found ways to turn that question into outreach and action.
Typically, she says, city leaders will examine statistics and note that a particular community has a high proportion of infants with low birth weights or children who are unprepared for kindergarten.
"But when it comes to creating innovative solutions to address these disparities, they develop programs without having conversations" with potential recipients, often failing to ask even such basic questions as, "If we created this program, would you show up?"
Luse is aware of the barriers that might make someone answer "no"—lack of childcare or transportation; inflexible work schedules; language or cultural differences. Whether the program is a breastfeeding support group or an early-intervention program for toddlers, it's crucial "to get resident voice and perspective," she says.
Luse, now a Vital Village community champion for the Roxbury community, has organized extended play groups at her local library, helped initiate a family play night at a neighborhood eatery and started an online networking group, Roxbury Family Network. She receives a stipend and training opportunities, including the COFI experience, for her work.
That training, with its role-plays and reflective exercises, left an indelible mark. In one role-play, Luse and a partner practiced talking with a "neighbor" to encourage them to sign up for a new program. "My partner just jumped into it without saying her name, hi or where she was from." Luse, in the role of the neighbor, immediately responded, "I don't have time right now."
The exercise drummed home the importance of taking the time to make personal connections and listen to people's needs. "If people feel as if you don't hear them in that initial conversation, how are they going to believe you'll hear them when it comes to the services or support they need?"
As a Vital Village community champion, Luse continues to work on family and community engagement: letting residents of Roxbury and other neighborhoods know about the Baby Cafés that offer breastfeeding support or a new, free texting service that sends weekly messages to users about programming and resources in their areas.
Since the COFI training, Luse knows that she and her local compatriots are not alone. In September 2017, COFI brought a multi-day training to 22 Boston residents. "Participants not only gained new knowledge, strategies and tools, they also inherited a dynamic web of support," she says. "Some of us are doing whatever needs to be done in order to make our blocks safer, to make our children happier…So being able to be with other like-minded individuals who are doing that work is critical."
Read the full article