When Arlene Wilhite of Mattapan enrolled at the Urban College of Boston in 2002, she was 24 and five months pregnant.
She gave birth to her son, Kendrick, and left school. Over the next 14 years she got married, took a job in early childhood education, badly injured her arm at work, got laid off, and realized her injury meant she would need to find a new way to work with children.
On Sunday Kendrick, now 16, was in the audience at the Cutler Majestic Theatre, cheering his mother as she graduated with the school's highest honors and an associate of arts degree in early childhood education. Wilhite now wants to pursue a bachelor's degree and a career in human services, she said.
"As a single mom it was really important for me to show my son that education is really important," Wilhite said. "And I can't tell a child just to do something; it was my way to show him."
Officials at the private nonprofit college awarded 106 associate degrees and 62 certificates at the commencement ceremony Sunday.
The Urban College opened in 1993 for low-income students who need an affordable, part-time path to a two-year degree. In the 2018-2019 school year the college had about 1,300 students, 93 percent of them women, 88 percent nonwhite, and about 70 percent of whom spoke English as a second language, according to the college. Sunday's graduates earned degrees in early childhood education, human services, and general studies.
"The school has a soul," said Michael Taylor, president of the college. "We really care about the students, and we really support them."
On Sunday, commencement speaker John F. Barros, Boston's chief of economic development, urged students to be ambitious when they seek career opportunities.
"Make no mistakes about it: What makes a local economy competitive is talent; what makes a local economy competitive is you," Barros said.
About 65 percent of students enrolled at the school are women who are raising children, according to college officials.
Many students, like Wilhite, balance part-time classes with full-time jobs and parenting, Taylor said.
"I admire their determination and their grit, I really do. They motivate me tremendously every day," Taylor said.
At the commencement, babies babbled and cried over speeches, while toddlers in bow-ties clapped for the graduates.
And Wilhite's son, sitting in the balcony, texted his mother as she received her degree to tell her he was proud of her: "Proud of you ma, love you."
To prepare for the ceremony, her family went to an African market near Dudley Square to have outfits made in the same fabric, printed with geometric pattern of gold and Wilhite's favorite color, purple. Wilhite wore her jumpsuit under her graduation gown and could see her family members wearing the same bold print in the audience, she said.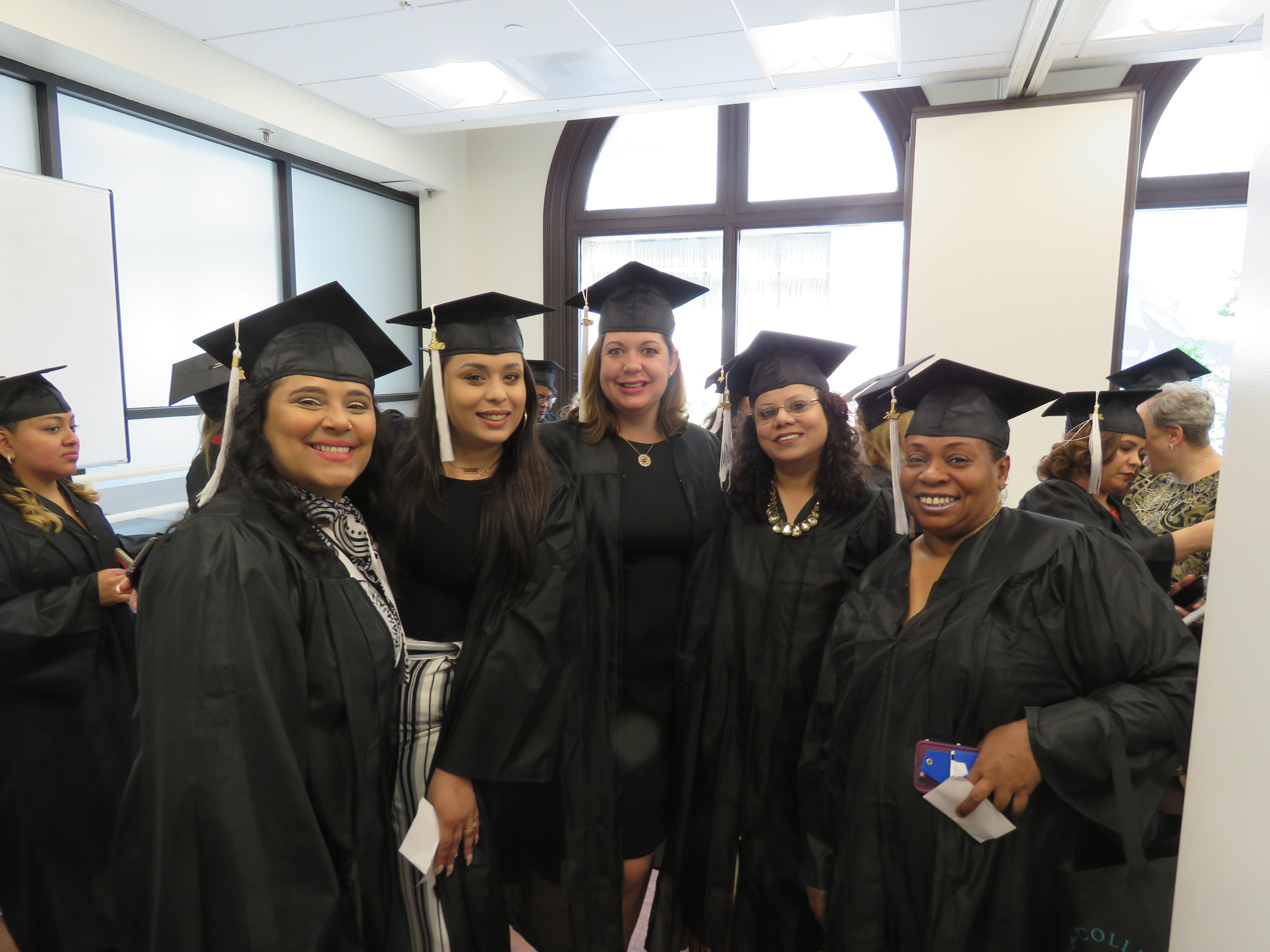 Wilhite said she and her son have done their homework together on Sundays. She had to miss some of his events because she was in school, and though family members were there to help, she would get emotional thinking about it in class, she said.
And sometimes, she said, he'd jokingly pester her to turn the TV off and study, she said.
"The things that I instilled in him, he was giving back to me. He was giving me tough love," Wilhite said.
Norieliz De Jesus, 28, of Chelsea, earned a certificate of achievement in leadership and advocacy for child-centered communities. For her, the certificate capped the 11 years at Chelsea Collaborative Inc., where she worked her way up from a youth worker to youth development program manager.
"I could get the classroom experience to [complement] the 11 years of hands-on experience in community organizing," De Jesus said.
She's been working toward the certificate for about a year, she said, also doing homework along with her children, 7-year-old Naleyah and 6-year-old Jordan.
Holding her certificate Sunday, De Jesus said she wants to come back to the college to study early childhood education.
"I don't know what my future holds," De Jesus said. "I know that I want to continue working with youth in my community. I don't know if that's going to be in a classroom in one of the public schools, or if that's going to continue to be around mental health and supporting youth with trauma. But I'm sure that Urban will help wherever I go."
Read the full article