Children's Librarians: Community Champions for Children's Mental Health Storytimes
Being a librarian these days goes beyond wandering among stocked books and beyond the library walls. Throughout the COVID-19 pandemic, the Children's Librarians across Boston Public Library neighborhood branches have dedicated their time and efforts to creating an outlet for children and families to come together for book readings, songs and activities focused on Social-Emotional Learning (SEL) with Children's Mental Health Storytimes.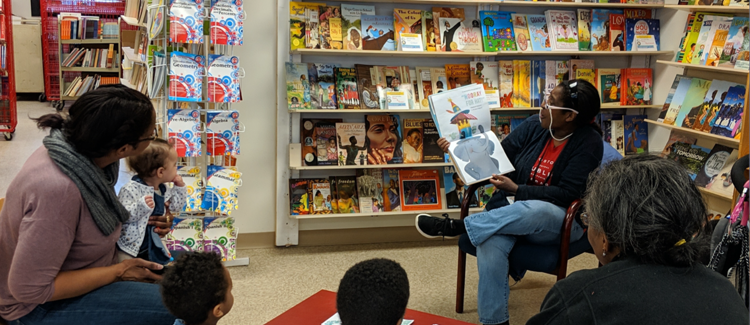 Led by community leader Sunday Taylor, this initiative began in May 2019 for May Mental Health Awareness Month and fostered a meaningful partnership between the Vital Village Mental Health Committee and BPL Children's Librarians. In May 2020, this partnership evolved to become a weekly virtual offering for children and families to meet the growing need for online programming for children and families at home. A considerable part of the success of storytimes can be attributed to the work of our dedicated volunteer librarians. Let me introduce you to the team of rotating librarian storytellers: Cindy Dye at Fields Corner, Chris Strunk at Codman Square, Allison Hahn at Brighton, Claire Waldron-Gross at Egleston Square, Ritse Adefolalu at Lower Mills, and Jackie Hincapie at Adams Street.
Chris Strunk at Codman Square BPL shared, "At first, Covid basically stopped all of the Children's Librarian's abilities to engage with children. The way we interacted with children was through them being in the Library, programs, and going out and visiting schools and daycares. We figured out how to do things online fairly quickly, though, and our programs continue to grow." The Librarians' willingness to adapt showed their unwavering commitment to support the children, families, and community members they serve.
As our communities continue to face pandemic and social justice issues, the Children Librarians as unsung heroes found new and exciting ways to engage children while maintaining social distance and keeping everyone safe. When children could not gather and visit friends and family, the librarians used the Children's Mental Health Storytimes to help children develop social and emotional skills to deal with their issues during the pandemic and equip them with lifetime social skills.
"Mental health in childhood means reaching developmental and emotional milestones and learning healthy social skills and how to cope when there are problems." -CDC, 2021
COVID-19 has affected the lives and mental health of many children and families. During 2020, children could not gather in person, including going to the library, school, or simply outside to play with friends. Undoubtedly, our early experiences shape our developing brain, and Children's Mental Health Storytimes are impacting children's development and empowering parents/caregivers with tools, skills, and resources to do the same during the pandemic. Each week, the Librarians picked a Social-Emotional Learning theme from our Children's Mental Health Storytime Toolkit that informed the books, songs, and activities during storytimes.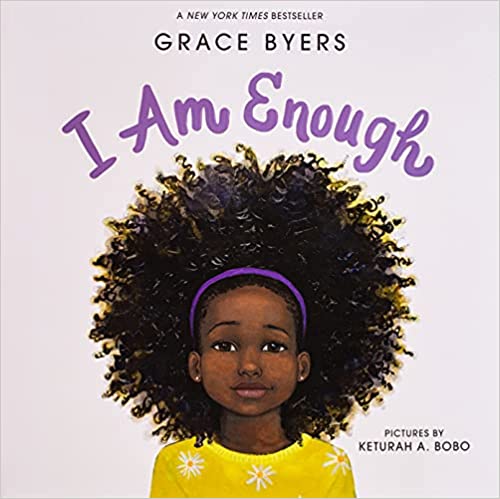 Community leaders and parents/caregivers have voiced the importance of reading and showing children racially and culturally diverse books. From reading I Am Enough by Grace Byers to Bilal Cooks Daal by Aisha Saeed, storytellers intentionally choose books that reflect the children of our community and value differences to ensure no child feels left out.
When asked, "In what ways do you empower and motivate children in your community?" Ritse Adefolalu at Lower Mills BPL stated, "My goal is to instill children with a love of learning, as well as the confidence to use what they learn to pursue their dreams. Through storytimes, school visits, homework help, and other library programs, I strive to help them build a foundation of knowledge, social awareness, and positive self-image. But even during casual interactions, I make sure to listen to and value what children have to say. Even the little things help let them know they matter." During storytimes, Ritse brings his creative gifts through music by having instrumentals to accompany every song we sing.
When asked, "Do you think that children's mental health storytime addresses the stigma attached to mental health and children?", the librarians summed it up perfectly by sharing the following statements:
"Absolutely! Not only will normalizing good mental health practices from such a young age help kids develop these skills as they get older, but it also helps to create a safe space for children and their parents by providing language to talk about our mental health and coping methods that can be practiced by anyone in the family." Jackie Hincapie
"Most definitely, storytimes like this are making a difference. Our country as a whole still has a hard time acknowledging that there is such a thing as mental health, let alone addressing it, and that mindset is often especially prevalent among the minority communities who rely on libraries the most. Normalizing conversation around social-emotional themes in a safe and fun way helps children and parents become comfortable recognizing, expressing, and experiencing their feelings." Ritse Adefolalu
"From what I can tell, exposure to social and emotional themes helps children be happier and have a more positive attitude towards school and their peers, leading them to do better in school and be happier. I don't think that the storytimes can do this on their own, but in conjunction with teachers and daycare providers who use social-emotional learning, hopefully, they can help children become happier and healthier." Chris Strunk
Librarians are an essential part of our communities. They are there to support and guide children, empower parents/caregivers in several ways and be an impactful resource for adults, students, teachers, and the community. This Fall, we invite you and your family to meet your local librarian's by visiting local Boston Public Libraries, explore resources, and try out family-fun activities through the STARS Scavenger Hunt! You will receive a FREE book when visiting your local BPL library in person as a part of participating in this co-hosted Activity by the Vital Village Networks Mental Health Committee and Boston Public Library Children's Librarians!
We always welcome you to the virtual Children's Mental Health Storytimes on Thursday's at 3:30-4:00pm to meet your local librarians and unsung heroes! Register here: https://cutt.ly/child-mental-health-story
And lastly, are you interested in collaborating with these awesome librarian's or getting involved with Children's Mental Health Storytimes as a storyteller or recommending a book? Email Desiree.Hartman@bmc.org and Amainaris.Sanchez@bmc.org.